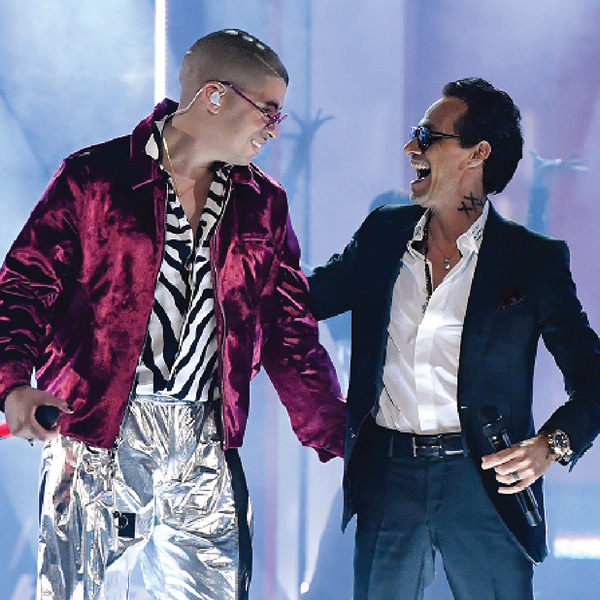 Marc anthony: with a new tour, new songs and an 'in the heights' appearance, the salsa superstar is raring to go
This is what I do. I've been touring for 30 years. I don't know how not to do it." Marc Anthony said, explaining what it was like to not be out on the road for the first time in decades. "When I was in the middle of doing, say, 100 concerts a year, I realized, not that I took it for granted, but maybe I was a little tired, but it was normal. So when they tell you that you are going to be off for a year and a half, you look in the mirror and say 'Who am I, if I'm not on stage?' It was rough, all the way around, the silence was deafening. I cannot wait when they knock on my door and say 'Five minutes.'"
Not constantly working is something Anthony doesn't know of, having built a veritable empire during his 30-year career in the music industry, even with such a demanding touring schedule. In addition to selling more than 12 million albums, he's filled arenas, broadened his investments in various avenues of business, and established multiple philanthropic efforts.
Starting Aug. 27 at AT&T Center in San Antonio, Texas, where he is the first scheduled concert performer to take the stage since the venue shuttered in March 2020, Anthony will be hitting at least 23 arenas through December, including dates at the Forum in Inglewood, Calif., Scotiabank in Toronto, Brooklyn's Barclays Center and Mexico City's Palacio de Los Deportes, among others.
The "Marc Anthony Tour" is promoted by Cardenas Marketing Network in the U.S., a continuation of the partnership the artist and promoter signed several years ago valued at $160 million.
That deal was just the latest in CMN Founder and CEO Henry Cardenas and Anthony's partnership as promoter and artist (and friends) that stretches back to the beginning of their respective careers, when Cardenas stayed in Anthony's house while promoting his shows, an arrangement Anthony jokingly says he will never allow again.
"We are very excited, this is like a family tradition," Cardenas told Pollstar. "Not only for me, but my staff is very happy that we are working with our No. 1 client and friend. He's a family member, so we're all excited. … Sometimes I cannot explain the happiness that we feel every day, just thinking it's real. El Monstro (his nickname for Anthony) is going to be on stage again."
"Thank God Marc and his band are agreeing to go on this tour. We need it, not just financially, but as humans, we need to get the salsa vitamins in our veins again."
The tour will continue into 2022 with additional U.S. dates planned and a European leg that includes a full run-through Spain that is already largely sold out, Anthony's business partner Michel Vega told Pollstar.
"If you look back at the touring history, Marc tours every year, he doesn't really come off the road unless there is a pandemic," Vega, who is CEO of Magnus Media, the diversified entertainment and sports enterprise company he co-founded with Anthony, said. "Pre-pandemic, he had been touring for basically 20 years without a lot of time off. We're all super eager to get back." The tour itself will feature material from Anthony's classic catalog as well as a slew of hits that Anthony has not yet been able to perform live, including "De Vuelta Pa' La Vuelta" with Daddy Yankee, "Convenceme" with India Rodriguez, and "Home All Summer" from the soundtrack for the film "In The Heights," which Anthony also appears in.
Anthony describes the live show as "a celebration of where I've been, where I'm at, and what people haven't seen." He also teased that he may be recording a new album soon.
The "Marc Anthony Tour" will be a front-to-back show with a 270-degree configuration (unlike the CMN-produced Maluma tour, which is ramping up around the same time, in-the-round with a 360-degree configuration) and Cardenas said he expects most markets to be able to sell at 100% capacity. And ticket sales are even stronger than in 2019, Cardenas said, indicating the demand for Anthony's arc within the music industry includes triumphs and vistas from which he has been able to look out, but now, after 30 years, he is bigger than ever.
"If you look at the multi-generational audience that he has, it's incredible. You have parents bringing their 10- and 12-year-old kids and people that are 80-90 years old dancing salsa," Magnus Media COO Felipe Pimiento told Pollstar. "Some of those parents heard it from their parents. No matter what country you are from, there is a Marc Anthony song played by your family and it trickles down to you. My 8-year-old daughter has been singing 'Vivir Mi Vida' for the last five years, starting when she was 3."
Cardenas – who works with a wide variety of performers and has other tours coming up, including Ana Gabriel, Sech, Nicky Jam, and Becky G – said Anthony's shows are, more than anything else, characterized by the amount of dancing and energy in the crowd.
"I don't want to compare performers, but when you see Marc, you are going to dance," Cardenas said. "When you go to see a Marc Anthony concert, you have to dance. You will stand up for two hours and dance."
Vega, who was previously a partner in WME and opened the company's Miami office, said Anthony still very much has "it" and has only grown as a performer with age.
"He is known for his electrifying performances," Vega said. "In my mind, he's a live performer like no other that we have today."
And the numbers certainly speak to an artist that audiences simply do not get tired of, as Anthony regularly is able to make Pollstar's quarterly top ticket sales charts. In total, Pollstar has recorded $293,572,735 grossed by Anthony on 3,718,842 tickets reported sold since 1999.
But when speaking about his live show, Anthony is quick to credit his band, which he says is among the best in the business, bar none. His band and crew is expansive and includes Angel Alfonso Fernandez as musical director as well as on trumpets and guitar; Ricardo Lucas Gonzalez on the keyboards and background vocals; Gerardo Rodriguez on trumpet; Mario Sebastian Guini on guitar; Osvaldo Melendez, Bayron Ramos, and Daniel Gene Reagan on trombone; Marcos J. Lopez Ayala, Jessie Caraballo, Curtis Rodriguez Matos and Eric Carlos Velez on percussion; William Duvall as lead background vocalist; Franklin Torres on background vocals; Juan Carlos Sierra on piano; Jorge Humberto De La Torre as an audio tech and stage manager; Marc Holmes as tour manager; Glenn Acosta as road manager and teleprompt operator; Andres Albornoz as production manager; and many more techs and crew hands.
"My band has been with me going on 29 years now. There is great comradery and we pull each other through," Anthony says. "I'm a big fan of the band. I know that these are my songs and my arrangements, but to witness them from the stage and listen to that monster of a machine playing your arrangements night after night, it's goosebumps city, even from the stage. They entertain me while I entertain."
"I'm not going to lie and say touring for 30 years in a row without a year off was always fun, but I have had a lot of time to reflect and I've realized why I've survived for so long is because it's been more fun than not. I get to see my guys and my crew every day, there are inside jokes. When we all started, we were like virgins, now I think there is something like 80-something grandchildren between all of us and maybe 1,000 divorces. … So when our connection is like that, you have a certain shorthand with the guys. I'll walk out on stage and congratulate a band member on their daughter graduating high school, it's an extension of my day-to-day, and I wouldn't know how not to do it."
While Anthony says his relationship with his band is one of his favorite parts of the job, he also is extremely proud of the music they produce and claims to have "one of the greatest bands in the history of music," noting that his salsa rhythms can get very technically challenging, but his team never fails to tear them up.
The Beat Goes On
Anthony doesn't get nervous before live performances, and said he treats shows like family barbecues on a Friday night and views himself as "the cousin that sings." By not putting too much pressure on himself, Anthony said, he has enjoyed performing the music live, and the stressful part for him has always been the songwriting, composition, and arrangement.
His musical career stretches back to 1988 when he recorded the freestyle album Rebel. He followed that with a number of projects and collaborations, including When The Night Is Over with Little Louie Vega. Anthony was initially not interested in salsa music but confirmed with Pollstar the story that one day he heard the Juan Gabriel song "Hasta Que Te Conosco" in the back of a taxi and had an unshakeable feeling he had to record a version of that song.
Despite the fact that the song was in Spanish, which he didn't speak very well at the time, he decided to try a salsa version of the song and subsequently began working with producer Sergio George on a full salsa album, Otra Nota. The album came out in 1993, reached No. 2 on the Billboard Tropical Albums chart, and solidified Marc's position as a salsa musician. He followed that project with Todo A Su Tiempo in 1995, which would be the first salsa album to be certified gold by the RIAA. He would enter the Tropical Albums and Top Latin Albums charts at No. 1 with Contra la Corriente in 1997 and that album would win him his first Grammy Award.
He would return to English music in 1999 with Marc Anthony, which would see him cross over into mainstream stardom with the hits "I Need To Know," and "You Sang To Me." He followed that up with another salsa album, Libre, in 2001 and another English album, Mended, in 2002. The former would be nominated for a Latin Grammy and a Grammy and the latter would be certified platinum. His 2004 release, Amar Sin Mentiras, would be a full-scale pop album in Spanish and won a Best Latin Pop Album Grammy. Many arrangements of those same songs in the salsa style were included on Valia La Pena in the same year, which would also win a Latin Grammy. He released the soundtrack for the film "El Cantante," starring himself and Jennifer Lopez, in 2007 and that soundtrack would win another Latin Grammy.
A covers album, Iconos, followed in 2010. Anthony told Pollstar one of the most significant moments in his career came with his 2013 cover of Khaled's "C'est La Vie" which was released as "Vivir Mi Vida" (see page 38). That song would be released on his album 3.0 in 2013, which won the Grammy for Best Salsa Album and was nominated for Album Of The Year at the 2014 Latin Grammys. Anthony's last full project was Opus in 2019, which once again won the Grammy for Best Tropical Latin Album.
Anthony toured annually through this entire period of composing, recording, and releasing songs and told Pollstar keeping the business of writing music that he loved separate from cycles of touring was very important for him.
"Every night, I get to go out and celebrate these pillars in my life, these songs that have been my friends for years," Anthony said. "I'm a lifer. I don't record because I need a gig. I think that's what started to change music, is people started putting out shitty music just to gig. And think a lot got lost in that. But I tour to tour and I record to record. I don't put out an album because I need to work."
One man who has seen Anthony's musical evolution over the years is producer Sergio George, who helped him enter the salsa world with Otra Nota and continues to work with him in the studio to this day.
"I'm surprised that people are surprised [at Marc's success]," George told Pollstar. "I saw his potential greatness when we first worked together in 1992. He was a young kid, he wasn't that disciplined. But I knew, by the second album, when he was much more disciplined, and nothing that is happening now is surprising to me.
"He's just talented, he radiates energy and talent and it transmits when he is onstage. It's not about being a model, for him, it's about being an artist. And he's always been that."
George said Anthony's musical style has evolved in many ways over the years, but he feels the aged Marc Anthony truly is the best version of him yet.
"He has become a better singer. His range might have been slightly higher when he did the first album, but he has become a way better vocalist. Combine his innate performing ability with his vocal prowess, he's just gotten better with age." George – who over the years has worked with such luminaries as Celia Cruz, Tito Puente, Christina Aguilera, and Gloria Trevi – said the writing process with Anthony frequently sees him come to the studio with hundreds of ideas they gradually whittle down to around 20 and then begin hammering out.
Vega said George and Anthony have worked together so closely, for so long, that in the studio much of their communication is non-verbal and seemingly telepathic. George said he has worked with Anthony enough that he simply knows what he likes, and they have refined their process to the point where it takes very little for them to communicate changes in the music.
"Marc is a very melody-driven guy," George says. "We need things that sing, in the guitar and piano, and then when we go to the horn section, but the melodic lines have to be catchy. Even with Marc not being there, I can get 60 percent of it right by thinking the way he thinks. Then he comes in and adds things I don't expect, but other than that I can pretty much predict what he likes."
Beyond The Stage
At this stage of his career, Anthony has his hands in much more than recording and touring. He became a minority owner of the Miami Dolphins in 2009. He starred in the TNT series "Hawthorne," in 2011. He launched a new clothing and luxury accessory line for Kohl's in the same year. He, Jamie King and Jennifer Lopez produced the television show "¡Q' Viva! The Chosen" in 2012, which was the first show to air simultaneously in English and Spanish on television in the U.S. and in Latin America. His extensive acting credits also now include an appearance in Lin-Manuel Miranda's "In The Heights," and was so impressed by the director and cast, he said the experience left him "proud as hell of the fact that I'm in the same universe as such greatness."
But his biggest business move came in 2015 when he joined forces with Michel Vega to co-found Magnus Media, LLC, which today is a diversified entertainment and sports enterprise that represents and manages athletes and artists, has its own recording label and music publishing company, produces television and digital content, and provides marketing services.
Anthony has also devoted substantial resources to philanthropy, which only continued over the last year. In January 2012 he created the Maestro Cares Foundation with Henry Cardenas, to be run by Zaidy Cardenas. Maestro Cares was founded when Zaidy saw a crying need for better-quality orphanages in the Dominican Republic. Maestro Cares opened the Orfanato Ni os de Cristo in DR in 2014.
Since then, the Foundation has engaged in work throughout Latin America and during the pandemic was working on projects in Ecuador, Chile, Colombia, and the U.S. Henry Cardenas said they are only a few countries away from having worked in all Spanish speaking countries in the Western Hemisphere.
"We keep working man, this is fun for us," Cardenas said. "It fills your heart, you know you are doing something right for the people in need and there are a lot of people in need right now, especially during the pandemic. We would like to do 100 projects a year but if we can complete four to five projects a year, we are very happy. The only countries we are missing in Latin America are Uruguay, Paraguay, and Panama. In 2022, we will try to fill those buckets."
In addition to Maestro Cares, in 2017 Anthony and Magnus formed Somos Una Voz, an alliance of athletes and artists, to provide aid for areas affected by natural disasters in Puerto Rico, the U.S., Mexico, and the Caribbean. Anthony has also included portions of his ticket sales for philanthropic programs on previous tours.
"I'd rather be about [philanthropy] than talk about it," Anthony said. "We have made such strides, such amazing headway as far as education for children in Ecuador, and young ladies and young men in orphanages. It's about dignity, at the end of the day. Some of the most brilliant minds of our time have been orphans.
"These programs are for kids and young adults who were dealt a bad set of cards. I know how that feels; I was raised in East Harlem and I took advantage of a lot of programs growing up, music programs, and the YMCA. This work is something I am really proud of and we made great strides. Even during the pandemic, we were extremely effective and helpful."
In addition to his business and philanthropy, Anthony has had the chance to counsel and work with many younger artists, including Maluma and Bad Bunny, who today are working with CMN on major tours of their own. He recalls inviting Bad Bunny to join him onstage at a concert in Miami when the artist had never before been on such a large stage and spending a whole day with Maluma to discuss business and strategy.
Anthony says it has been a remarkable journey and he feels great pride watching these young artists propel Latin music to the position it is in today: a genre with a worldwide audience in which artists do not need to make compromises to get their messages to large audiences.
"Seeing them move the needle, seeing the No.1 song on the planet being a Bad Bunny song, what these kids are doing is absolutely stellar," Anthony said. "And they are doing it their way. They became the network, through social media, so they are not beholden to what I was beholden to before. We had to go to radio stations, one by one, and carry the program director's suitcases and get them coffee to get your record played. From that to what these kids are doing now is unbelievable and marvelous."
Having grown from a Puerto Rican kid from New York to one of the biggest figures in Latin music, Anthony looks back on his career in the industry with gratitude and looks forward to whatever the future holds for him and his contemporaries of many ages.
"In this industry, you might consider me an elder statesman, because I've been doing it so long, but I feel like I'm just beginning," Anthony said. "I'm sitting here as a proud Latino. There's not much I haven't seen. I'm still in the game and I'm prouder than ever.
"And from where I sit, to see these kids doing so well, and to do it their way, just fills me with hope. I'm proud to still be along for the ride."
HOW 'Vivir Mi Vida' Renewed Marc Anthony's Confidence
Of all the songs in Marc Anthony's extensive and award-winning catalog, he says "Vivir Mi Vida," his cover of Khaled's "C'est la Vie" in Arabic and French, released in 2013, was a pivotal one in his journey, giving him the confidence to proceed into the latest stage of his career.
"I hadn't recorded in something like seven years; I felt inadequate," Anthony said. "I had these songs, but the business had changed so much, I didn't want to come across as the old man in the club. I was thinking 'Do I still have it?'"
Anthony worked on the song with his longtime producer Sergio George, in the period when the artist's last two releases were the soundtrack for the film "El Cantante" in 2007 and the cover album Iconos in 2010. The process of "Vivir Mi Vida," began when Anthony played the song for his producer at the artist's apartment.
"He played me the Arabic-French dance version of that song, and I didn't know why he played it for me, it was very strange. So I said it was a great song and asked what he was going to do with it," George said. "It was dance music and the BPM was pretty fast.
"The reason I like that song is because that particular chord structure, those four chords, were very popular in all kinds of pop music, but Marc didn't ever really have a song with those four chords before, and I had never heard a salsa song with those chords before. I thought, 'If we could make this work in salsa, it would be a hit.'"
So the idea was discussed and ultimately put on the shelf. Sometime later, when Anthony and George were working in the studio, without anything really prepared ahead of time, the band, Anthony and George spontaneously decided to start working out an arrangement for the song. Within 15 minutes, George said, they had figured it out and we're playing the version heard on the record.
As the music came together, George said he saw the lightbulb go off in Anthony's head, who quickly figured out the lyrics and refined the song. Those lyrics are a modified translation of the original song's lyrics in Arabic and French, and both versions are a celebration of life and invite the listener to rise above whatever pain they are feeling and live with great joy.
Once the song was released as a single, it became one the biggest hits of Marc Anthony's career. At publication time, the song had logged more than 1 billion views on YouTube, more than 372 million streams on Spotify and won a Latin Grammy Award in 2013 for Record of the Year.
"'Vivir Mi Vida', in particular, really squelched any doubts I might have had," Anthony said. "That song was like a big hug. It was a big, 'Welcome back,' 'You still got this, don't be discouraged.' And when I wrote the lyrics, it was more for me, that message that 'It's going to be all right.' I needed that message more than anybody at that time and, thank God, it worked out."
THE MAGNATE OF MAGNUS
Today, Marc Anthony's Magnus Media, LLC is a massive company with many different branches and areas of business. A diversified entertainment and sports enterprise, Magnus represents and manages athletes and artists, has its own recording label and music publishing company, produces television and digital content, and provides marketing services.
The company was founded in 2015 when Anthony joined forces with Michel Vega, who was already a partner at WME and had opened the agency's Miami, Florida, office a decade earlier.
"I had been an agent for 25 years and was looking for a new challenge," Vega explains. "Marc was eager to build something more far-reaching for the future that would involve being able to give back to other artists for future generations. We wanted to put together a company that was built from scratch with the new reality of the digital universe we are in, where we were could leverage the fact that content creators, now, in the digital world have a much different means to empower themselves."
The two quickly put together a team including COO Felipe Pimiento, who had previously helped Anthony produce " Q'Viva! The Chosen."
"I was in Colombia on holiday and Marc happened to be in town to do a show, we started talking, and he had started thinking about what he wanted to do in the next stage of his career, and he wanted to restructure everything around his management company," Pimiento recalls. "Once we announced we were launching Magnus … we moved everybody to Miami."
Some of the artists managed by Magnus include Anthony, Gente De Zona, Fonseca, and Enrique Santos. The Magnus Talent Agency does the separate and often interrelated work of booking clients like Mau Y Ricky and Il Volo. But an area Magnus expanded in rapidly is athlete representation, as the company has accumulated a substantial roster of active big leaguers, rising stars, and legendary players including Aroldis Chapman, Manny Ramirez, Ivan "Pudge" Rodriguez, Juan Uribe, Alfonso Soriano, Carlos Zambrano, Sam Hilliard, Vladimir Guerrero Jr., and Zac Rosscup.
A key to the company's success in this field has been finding great business partners to add to the family, which include CEO of Magnus Baseball Barry Praver and President of Magnus Baseball Scott Shapiro.
"Marc loves baseball and when we met our future partners, we looked at the baseball representation business, and even though 38% of MLB players are Latino, there wasn't one company that was specializing in these amazing athletes," Vega said. "Therefore, many times you have a situation where somebody at the top of their field is making tens of millions of dollars a year but is not effectively able to communicate with the most important professional in their life. There is a language and also a cultural barrier. So when we opened up, I think that resonated with a lot of the players."
Magnus also recently partnered with Sof a Vergara's Latin World Entertainment to co-manage and book the music related-business of LatinWE clients, and are working with VIS Entertainment to develop multiple scripted projects through Magnus's content division.
By FRANCISCO RENDON