BIO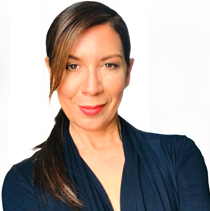 Blanca Lassalle is the founder of the New York based Public Relations and Marketing firm Creative Link.
Born in Santurce, Puerto Rico, Lassalle was studying journalism and TV production in college when she began her career by working for the well-known Puerto Rican producer Angelo Medina. Under his tutelage, she was introduced into the world of Latin pop, collaborating on public relations campaigns, tours and production of high-visibility events with major figures including Ricky Martin, Draco, "Rock En Tu Idioma", Roberto Carlos, José Feliciano, Emmanuel, Chayanne, and many of the luminaries of the pop music culture.
In 1989 she relocated to New York to work for producer Ralph Mercado at his new label RMM Records, where she became the Director of Public Relations and Marketing. Lassalle also worked alongside Mercado on international concert tours and records for Latin music legends including Celia Cruz, Tito Puente, The Fania All Stars, Marc Anthony, the Gipsy Kings, Mecano, and Marco Antonio Solís, among many others.
With an extensive public relations portfolio, Lassalle experiences include a post as the National Director of Public Relations for WEA Latina where she launched PR and Marketing campaigns for the album releases "Donde Jugarán Los Niños" (Maná), Laura Pausini (Laura Pausini), Alejandro Sanz (3), Luis Miguel (Romance, Romance II), Miguel Bosé (Bajo el Signo de Cain), Olga Tañón (Nuevos Senderos; Siente El Amor) and Café Tacvba (Re).
After her departure from WEA Latina, she established her own public relations and marketing firm, Creative Link in New York, whose first clients were Marc Anthony, Celia Cruz, and Tito Puente. Creative Link has subsequently represented a variety of talents and projects for both Latin and mainstream markets such as The American Society of Composers, Authors and Publishers (ASCAP), Disney Theatrical (Aladdin and The Lion King on Broadway), John Leguizamo's "Ghetto Klown on Broadway", Chef Mario Pagán, CMN Marketing Network, broadcaster and iHeart's Latino radio personality Enrique Santos, Jennifer Lopez, Yandel, Victor Manuelle, Pedro Capó, Kany Garcia, Jada Pinkett Smith, fashion designer Narciso Rodríguez, Pregones Theater, The Puerto Rican Traveling Theater, The Latin Songwriters Hall of Fame and The Maestro Cares Foundation.
Since April 2015, she serves as the Director of Communications for Marc Anthony's MAGNUS Media, MAGNUS Sports and The MAGNUS Talent Agency.