BIO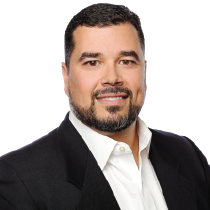 Pedro Bonilla joined Magnus Media's executive leadership team in 2015 as its Vice President of Brand Initiatives. He works closely with all departments to implement Magnus' marketing plan of leveraging the power of Latin influencers and content creators to build big media brands in the US and Latin America.
Bonilla started his entertainment career as the first agent trainee in the Miami office of the William Morris Agency in 2003. During his time at William Morris, he worked in various departments, including TV, music and branded entertainment. His knowledge of the entertainment industry, marketing background, and biculturalism provided him the opportunity to spearhead the Latin Celebrity Endorsements Department for the prestigious talent agency.
In addition to the William Morris Agency, his vast experience in this field includes Universal Music Group, where he served as Director of Branded Entertainment Partnerships for the U.S. Hispanic Market. There he focused on commercial opportunities such as celebrity endorsements, tour sponsorships, licensing, digital marketing/content development and brand integrations for the entire Universal Music Latin Entertainment catalogue.
Previous to his arrival to Magnus Media, Bonilla was part of the Wasserman Media Group's team in Miami where he focused on multicultural marketing consulting services and sports marketing strategy development for brands that had interest in engaging with audiences through sports and entertainment.
Born in Santo Domingo, Dominican Republic, Bonilla moved to the United States at age 14 when his family immigrated to the United States. He is a graduate of Washington University in St. Louis, where he received a BFA in Visual Communications with an emphasis in Advertising and Marketing. Bonilla is a member of Diageo North America's Multicultural Marketing Advisory Group and a former member of the selection committee for the Hispanic Heritage Awards. He currently resides in Weston, FL with his wife Renee and their two children, Sofia and Pedro.